New from Bryston - Model Mini T Loudspeaker

by Ernie Fisher
Whenever I think of relatively low priced loudspeakers, many well known mass-market brands come mind — most of which hold no interest for me. Many produce good speakers that work well with a wide range of equipment, but only few qualify to play back and do justice to the music, this is where the mini ts come in — and at $2550/pair (plus stands) represent highly affordable quality by today's standards. The Minis boast remarkable accuracy, overall balance and musicality, sonic elements found in complex loudspeaker designs costing more than double. The technical information is in the specifications, but a few details deserve note:

The Mini Ts do a better job of providing solid bass than any other so-called bookshelf speakers I have encountered at or close to their price range. They can produce or reproduce a true 35Hz at low to moderate volumes with excellent control, whereas most speakers in this price range either give up well above 40Hz or wind up with serious boominess.
<< Read More >>
Bryston - Model T Basic Loudspeaker

by Ernie Fisher
When it comes to describing one's impressions within a review-type essay, I think it is easier to exercise criticism than to explain excellence. A reviewer's obligation is to investigate and describe in detail the performance, character, merit, shortcomings and sonic properties of the component under review. But when being an audio critic turns into listening for pleasure, the critic is in trouble and must re-evaluate his/her position and duty. I found myself in this position dozens of time, but never as blatantly painful as in the past few months — the time I spent listening to the Model Ts and the Tenor Audio amplifier (review pending as I am still working on the Tenor). Nevertheless, here goes ...

As the sheer size and number of drivers indicates, the Model Ts do not make polite compromise with the law of physics. However, the size and number of driver is a bit misleading as the Model Ts are very coherent.
<< Read More >>
Bel Canto REF500M Monoblock Amplifier
by Ernie Fisher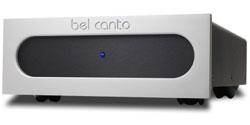 If you believe that high-end audio is always expensive, you are right — most of the time. There are, however, some, or few exceptions. These monoblocks cannot be considered outright bargains, but when one considers the price/performance ratio, one of the few exceptions is this pair of amplifiers from Bel Canto Audio. The price may point toward shortcuts taken to reduce costs, but that simply isn't so. The company and its designers have a sound background in engineering and they have gone to great lengths to create electronic components employing the most recent and innovative advances in switching technology. While this is important, Bel Canto haven't forgotten about the music their designs must recreate; after all, loosely translated, their name translates into Beautiful Song from the Italian language. As we shall see when you read the following, there is evidence that the components under review are capable of reproducing just that.
<< Read More >>
Bryston SP3 Preamlifier/Processor
by David McCallum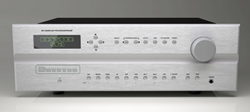 In the world of no-holds-barred multi-channel audio, the Bryston SP3 is the pre-amp / processor to beat. In essence, the SP3 is three great products in one. It offers the best multi-channel audio I've ever heard outside of a top sound mixing studio; it includes 7 outstanding D/A converter channels for multi-channel or stereo digital audio; and it provides outstanding 2-channel stereo performance, essential to any truly great sound product.
As the culmination of the progression Bryston has undergone as a company, the SP3 tops their list of exemplary consumer electronics products. Unlike the amplifiers Bryston produces, it's not likely the SP3 will find its way into very many sound studios (some, but not as many). However, given the performance level attained, it is capable of bringing the highest studio caliber sound into your home.
<< Read More >>
Origin Live Conqueror MK3c Tonearm
by David McCallum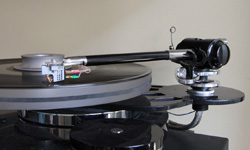 I'm suspicious that this particular review started out as a challenge, that after reading my original review of the Origin Live Calypso and Encounter combination, Mark Baker was curious to see how I would respond to one of his top arms.
In the spring of 2011 I wrote a review of the excellent Origin Live Calypso turntable with the equally striking Encounter MK3C Tonearm. I spent a good number of months with both products and was thoroughly impressed with what I heard – so much so that after the review I asked Origin Live's principle owner and designer Mark Baker if I could set up the combination for The Inner Ear's editor Ernie Fisher for an extended run of additional listening. After a brief conversation, rather than returning the whole kit, Mark suggested we up the ante and offered to send an upgraded tonearm to be paired with the same Calypso table. His recommendation was the Conqueror MK3C.
<< Read More >>
Naim Superline Reference Phono Stage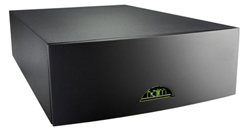 Inner Ear welcomes a guest reviewer this month. Chris Chamberlin is an avid audio enthusiastwe've known for a very long time and over the years we have come to value and respect his comments and observations. We welcome him to the fold with his review of the new reference phono stage and power supplies from Naim. Here is a brief intro:

"At the outset, let me clearly state that I am a proponent of tube audio as opposed to solid-state audio gear. Having exposed my subjective preference in terms of music presentation, I can unabashedly continue with the following phono stage review. By way of a little background, I have been an audio enthusiast for the past 35 years. I have a fairly large collection of both records and CDs, which cover a number of musical genres. The journey to try to achieve audio bliss has been an exercise in trial and error, but also, for the most part, a great deal of fun, with the occasional hiccup along the way. Recently my audio friend David McCallum approached me to inquire if I'd be interested in doing some writing for the high-end Inner Ear audio webzine. David and I both share the love of audio and also have similar tastes in two channel stereo equipment."
<< Read More >>
Editorials
About The Inner Ear – A little background, philosophy and mind-set.
E. Leopold gets on his soapbox to discuss "Editor's Choice".
Ruling Your Listening Room - The Sanctuary Controlled
Latest Audio News & Reviews