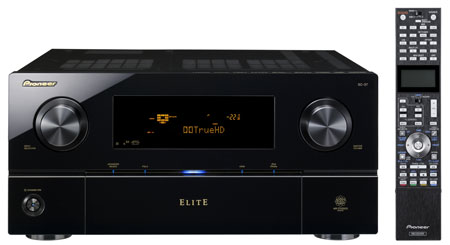 by David McCallum
I've been waiting on this one for a while. The last review I wrote for The Inner Ear magazine before we shut down the print run and began the conversion to our webzine was of a Pioneer Elite receiver. However, by the time the webzine was up and running, the receiver had been replaced by a newer model and my words were out of date. Three years later it's safe to say that I eagerly awaited the arrival of the new Pioneer Elite SC-37 A/V receiver.

A lot has changed at Pioneer since I last looked. Gone are the extremely good Kuro plasma displays – once the flagship of Pioneer's entire home electronics line. However the drop off in plasma production is a boon for the entire Pioneer A/V receiver line, which has received renewed attention within Pioneer's re-structured home electronics division. I've been working with the Elite model SC-37 for a month and my verdict is clear: It's a winner, and here's why.

Modern times
The SC-37 Elite Receiver includes all the key features that allow a modern A/V receiver to be relevant in today's market place: 7.1 channels; HDMI 1.4; 3D signal capable; audio decoding for Dolby TrueHD, DTS HD Master audio, Dolby Digital Plus, Dolby Prologic IIz. There are more, but you get the idea.

The SC-37, however, also includes a number of proprietary features developed by Pioneer: ICEpower amplification; Advanced EQ via MCAAC; Hi-bit 32/Hi-sampling signal processing; Air Studios certification; iPhone/iPod connectivity & control (via Ethernet); PQLS for jitterless playback of audio via HDMI (when connected to a PQLS featured Blu-Ray player) and Marvell advanced video processing.

While having such a comprehensive feature list is undeniably crucial to the consumer marketability of modern A/V components, where Pioneer's new receiver excels is in the overall playback performance. The SC-37 offers an excellent balance between what it can do, and how well it does it.

What's gone into the sound?
As you might have noted in the list above, the SC-37 includes numerous proprietary features that are only available within Pioneer's Elite line of electronics. These new audio features, or in some cases audio processes, work like a chain running through the receiver from input to output. Here are some of the highlights of SC-37's audio chain.

ICEPower Digital Amplification
Pioneer Electronics made the conversion to digital amplification with its A/V receiver line-up two years ago, with the 2008 introduction of the flagship SC-09 Elite receiver. However, including development time, Pioneer, in conjunction with development partners ICEPower, has been working on digital amplification technology for close to a decade. The SC-37 is Pioneer's fourth generation of ICEpower A/V receivers, and it features seven channels of ICEpower Direct Energy HD amplifiers capable of driving 140 watts each into an 8ohm speaker load. More on ICEPower can be found here <http://www.icepower.bang-olufsen.com>.

Hi-bit 32 and Hi-sampling Audio Signal Processing work in combination, creating a fully extended, smooth presentation of digital audio signals. According to Pioneer, "the 32-bit DAC hardware alone does not produce better sound. Maximum performance is gained by applying the Hi-bit 32 processing to expand signal resolution." Hi-sampling expands the range of the high frequencies, while smoothing out the edges of a 24bit digital audio signal, producing a smoother, natural sound.

Pioneer's MCACC, or Advanced Multi-channel Acoustic Calibration - originally developed in collaboration with AIR studios – has been updated for the SC-37 and now includes automatic x-over setting, phase matching for all speakers along with enhancements in full band phase control, standing wave, more precise measurements and data export via USB for display on a computer.

The Advanced Sound Retriever and Sound Retriever Air are two features designed to improve the sound quality of various forms of compressed digital audio. The Advanced Sound Retriever takes the sound from compressed audio files such as WMA, MP3 or AAC and attempts to restore them to near CD quality sound. This works in conjunction with any compressed audio file, such as those held on an iPod or other portable audio player. The Sound Retriever Air has been developed to improve the quality of Bluetooth audio streaming. These features also work with multi-channel compression files such as Dolby Digital and DTS 5.1 movie sound tracks.

PQLS
It's well known that HDMI is an imperfect interface for audio transmission, introducing substantial audio jitter into the digital audio signal, which negatively affects the overall sound quality. Jitter is the result of clocking errors that can occur between two components in an audio chain. PQLS, or Precision Quartz Locking System, is Pioneer's solution to stabilize the audio signal.

PQLS serves to synchronize the digital clocks of two components (Receiver & Blu-ray player), producing a jitter-less audio signal. In order for PQLS to work properly both components require the technology, so a Pioneer Blu-Ray player such as the newly released BDP-33 is required. However the SC-37 is also able to reduce jitter with non-Pioneer players via a phase locked loop circuit (PLL) in which the receiver's digital clock creates its own internal time signal in an effort to retain accuracy.

AIR Studios Certification
While AIR Studios Certification isn't an audio processing tool you can turn on or off, it can't be measured or adjusted, it does represent a stamp of approval for the Elite line of electronics from an independent, third-party entity that is also invested in the process of bringing good audio into your home. The engineers at AIR Studios work in collaboration with their compatriots at Pioneer, fine tuning the final performance of Pioneer's Elite line of products. The partnership has resulted in the co-development, design and tuning of numerous Air Studios certified reference-class home theater products and high-end components, including Pioneer's TAD professional speakers, Elite EX speakers along with the Elite A/V receivers. More on AIR Studios can be found here <http://www.airstudios.com/ <http://www.airstudios.com/> > .

What happens when listening?
Moving over to the performance analysis, when the SC-37 arrived my first step was to remove both an older Pioneer Elite A/V receiver and a Bryston 9B SST2 power amplifier. My normal set up uses an A/V receiver (which provides power to the surround speakers) and the separate power amplifier (connected via the pre-out's from the receiver) to drive the main L-C-R speakers in a bi-amplified configuration. My speakers include a pair of ATC SCM 40's with an ATC SCM 19 for a center speaker, along with 4 surround channels. For the analysis of the SC-37 Receiver I set the system up in a traditional 7.1 configuration, with the new A/V receiver providing amplifier power to all channels.

After the quick setup I began my analysis with a variety of television programming. There are a number of great shows that I watch, either from PVR, DVD or Blu-Ray, and I'm quite familiar with the sound of each show. Some are very good, but others aren't, and as a professional sound editor who works on both television and movies, I'm as interested in hearing flaws as I am in good work.

The first show up was Mad Men. While I love writer and producer Matthew Weiner's show dramatically, there are also a few attributes to its sound that I find quite interesting.

Mad Men starts with a great opening theme, but overall there isn't a lot of music in the show. When score is used it usually drifts in quite softly and never really reaches an aggressive peak. The subtle use of music has the added effect of often leaving the sound of the dialogue exposed, revealing to the listener some of the technical challenges that occur when recording, editing and mixing sound for television. While technicians such as myself work tirelessly to create a seamless presentation for the viewer, a high-end home theater will reveal the subtle details and flaws that are inherent in the work.

With the SC-37 the opening theme of Mad Men had an aggressive kick that I quite liked, and I perceived slightly more openness via an extension of reverb than I was familiar with. I also found the timbre in the voices to be quite good with some added high-frequency extension, but I was also able to perceive a few more technical flaws in the dialogue than I'm normally used to. It's possible these flaws were simply a part of that one particular show, and not related to a change in my system, but overall I responded very positively to both what I could and couldn't hear in the sound of Mad Men.

Other shows that made their way into my viewing list that first week were two episodes from The Sopranos Season III on DVD, a new AMC show called Rubicon and the premiere of the new HBO show, Boardwalk Empire.

I'm very familiar with The Sopranos, having watched the entire series twice. However, I'm making my way through it again with my fiancée. Like Mad Men, The Sopranos is driven by dialogue while the producers don't use score music at all. In contrast to Mad Men, however, The Sopranos will often have a very aggressive overall sound, using both source music and sound effects to add tension or drama to any given scene. During the two episodes we watched I heard everything I would have expected from the dialogue, with a bit of extra kick in both sound effects (such as the sound of cars racing by) and the source music songs.

With new shows that I was watching for the first time (Rubicon and Boardwalk Empire), the SC-37 produced an engaging sound that helped immerse me in the new dramas. It wasn't always pretty – sound for TV is never flawless – but that simply means the system wasn't glossing over the imperfections. But it was dynamic, rich and filled with the attribute I love most, detail.

After a week or two of normal use, I got down to some critical testing. A marvelous visual and auditory experience, Robert Zemeckis' 1997 film Contact is something I've been using for home theater analysis since the early days of DVD, when analogue televisions and projectors still graced our living rooms. A new 1080p Blu-Ray disc has replaced the original 480i DVD, getting you even closer to the intended movie experience.

When in test mode I jump to chapter 31, which, if you know the film, is just prior to the launch. I've probably watched this section of the film 589 times (I'm guessing). I just love it. It really is 15-20 minutes of auditory heaven. While the sequence includes tremendously dynamic passages, full of surround information, one of the aspects I'm drawn to most is the detail in the dialogue work.

The sequence starts with a TV news announcement from CNN anchor Bernard Shaw, and then quickly moves to the preparation for the launch – intercutting between Jody Foster (as Jena Malone) inside the pod, and the launch team, led by Sami Chester (as Vernon).

While Jena gets strapped in, Vernon and the launch team are able to both see and hear her via video monitors and audio headsets. During this sequence the clarity with which we hear Jena is constantly shifting, as we see the pod (and Jena strapped in it) shake with increasing violence. At first the sound is clear but over the course of the scene, as the launch approaches, growing interference in both the video and audio transmission make the communication between Vernon and Chester increasingly difficult to follow. As tension builds, the launch crew gets more anxious and Vernon considers aborting the mission. The sequence culminates in William Fichtner (as Jena's blind colleague, Kent) announcing that he can still hear Jena, and that she's "good to go…" – Kent after all, has an extremely acute sense of hearing.

A wide array of audio effects and/or reverb mixed into the dialogue help build suspense and add tension within the sequence. The beauty of the scene is just how clear the dialogue remains for the audience.

What follows after the launch is an extremely intense, dynamic, surround filled montage of sound as Jena, while inside the pod, is sent off through both space and time. Over a decade after Contact's release, the sequence remains one of the richest and most rewarding sound montages in film.

So now that you know why I watch it, you'll be happy to hear that with the SC-37 at the heart of my system the presentation of the sequence certainly didn't disappoint. I was particularly impressed with the dynamic range, my ATC SCM 40s kicking out an incredible amount of controlled bass and low frequency detail, while protecting and revealing all of the subtle details in the dialogue. I'll add that just before the launch occurs, the balance and blend of the surround information really caught my attention as my listening room slowly filled up with a barrage of swirling whooshes and musical score. The dynamics in the surrounds also maintained an striking presence through Jena's traveling sequence until she drifts down onto the beach (have you ever noticed the waves moving backward on the shore?).

Other movies that made their way into my testing session included Amélie, Shutter Island, John Mayer's Where the Light is and Passchendaele. I could go into detail about all of them, but the summary is most important - the more I watched the more impressed I became with the SC-37's ability to present multi-channel movie and television sound.

A little bit of music
After the successful film and television viewing, I decided to try out some music listening, curious to see how the SC-37 would adapt to stereo music. One CD that I've been listening to a lot lately is Lyle Lovett's Joshua Judges Ruth (MCAD-10475). Produced by George Massenburg (an outstanding music producer who also happens to use ATC loudspeakers), Lyle Lovett's album is a soulful collection of songs. The production is wonderfully clear, with outstanding dynamic range.

As with the multi-channel sound, the SC-37 produced a lot of natural energy, demonstrating excellent kick and dynamics, revealed nicely during the piano and kick drum on track one, I've Been to Memphis. Good energy was certainly present and the music sounded full, creating an immersive feel in the room. However when track three started, called North Dakota, I did perceive a slight fall off in detail, noticeable in the reverb and sustain during the opening passages.

I mention these examples because these two perceptions remained during the rest of my music listening – with the SC-37 at the heart of the system, music was full, energetic and dynamic – very engaging, but it did lack just a slight amount of detail. Now before you react too aggressively to this observation I should qualify it by mentioning that in setting up the SC-37 for music listening, I removed almost $20,000.00 worth of very high quality stereo electronics from my system - so the comparative benchmark is set quite high.

Final commentary
It's impossible to separate one feature of the SC-37's performance from another. They all work in unison, each contributing to the final presentation. For this review I asked Pioneer to include a new Blu-Ray player that included PQLS so that I could utilize as many features as possible. I experimented heavily with the updated MCACC acoustical calibration/ equalization features, including Standing Wave Control, Precision distance and Full Band Phase Control. I tested numerous audio decoding codec's that are featured on the unit; the iPod connectivity, both playback and control; RF remote control (rather than IR) as well as thoroughly testing the Marvell video processor (which is very good). With each test the SC-37 performed exceptionally well. Ok, maybe, just maybe I was hoping for more from the iPod Control/AV application. But that's it.

There are many possible ways to judge an A/V Receiver, from ease of use to connection options to performance. In the end it's the performance that matters, and that's where the new SC-37 Pioneer Elite Receiver really shines. Highly recommended.