A window to the world of music
Magnum Dynalab delivers CD-like quality with their latest MD 209 FM Receiver
by Ernie Fisher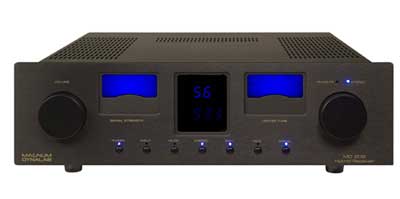 When maturated audiophiles talk about FM radio, the MacIntosh MR75 and MR80, the Marantz 10B and Sequerra are fondly remembered and it wasn't until the eighties that Magnum Dynalab joined the short list of distinguished FM tuners. Most contemporary audiophiles weren't born or were infants when most of these distinguished tuners were making waves. Today's short list seems to have shrunk to a single tuner manufacturer, namely Magnum Dynalab, the makers of the famous MD 108 and MD 109 tuners. For at least ten years, MD has dominated the high-end tuner market around the world, but along with this accomplishment, they also produced the first audiophile satellite tuner, some lower priced tuners, a fine receiver, the model 108, an integrated amplifier, the MD 309 and antennas that actually work. MD's latest component, however, is the one under review here — a hybrid amplifier/tuner.

Appearance
The MD 209 is a large component, measuring 19 inches wide, 19.5 inches deep, 6.5 inches high and weighing in at a whapping 51 pounds. My sample came finished with a black faceplate (gold and silver are optional) fastened to a sold black chassis. The faceplate sports two large windows, which display signal strength and center tuning and a somewhat smaller centered numeric volume indicator (the bluish window tint reminds me of the classic MacIntosh look). A row of small buttons provides access to the power, inputs, mute, stereo, bandwidth 1&2 and signal.

The Sound
Listening to FM radio is likely an integral part of many audio enthusiasts' life — it is for me. When the MD209 came in, I connected and operated it for a couple of weeks, though I checked daily for sonic improvements as it was burning in. In due time, I settled down to listen to some serious jazz and classical music. Jazz FM in Toronto is on 91.1, CBC FM is on 94.5, Classical FM is on 96.3 and there are a number of stations I don't bother with. However, to check the MD 209's capability to receive station, I tuned in all I could receive and came up with 12 (listenable) stations and about four or five fringe station from upstate NY and from almost 60 miles north. This matched my previous experience with the MD 109 tuner I had in-house for years.

What I cannot tolerate for long is when the station broadcast is compressed, and this receiver will show it immediately as its audio section is of superb quality. CBC broadcasts are pristine and with a great tuner, it is frequently difficult to distinguish the audio quality from that of a CD. My above-mentioned favourite stations came across clear and rather musical, making for delightfully involving musical entertainment. In other words, the MD 209 has a superb tuning section.

The audio quality generated by the pre/power section of the receiver is not good, it is superb. My first impression was the receiver's ability to create (or recreate) a solid multi-dimensional soundstage that not only delineated instruments and voices, but also revealed space and boundaries. This made my auditioning loudspeakers vanish and set up a listening space akin to a live event. This, however, was not only with CD playback, but also when listening to iPod and FM broadcasts. In fact, no matter what source component used, the MD 209 performed beautifully. When I listened to female and male vocals, the unit's crystalline midrange placed me front centre.

The transition into the high and low frequency ranges is smooth and refined, characterizing the absolute tonal equilibrium of the receiver's amp section.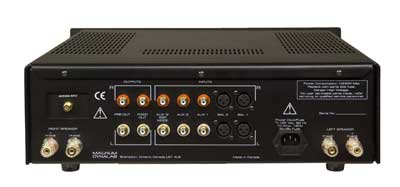 Bass is surprisingly firm with good resolution down to about 30Hz and fair resolution to about 25Hz (my auditioning speakers quit at 27Hz). Dynamics as well as micro dynamics are handled with an organic finesse, not with unnecessary force or undue frailty. This contributes to an effortless flow of the music, where one can still enjoy a rousing crescendo and, simultaneously, the gentle chime of a triangle.

My Hammond B3 recordings with Jimmy Smith and Joey DeFanceso showed the receiver's potency to convey musical energy; and my Shirley Horn CDs revealed its capacity to extract inner detail.

I was (positively) shocked when I listened to the receiver's D/A converter. I had connected the Wadia 170I transport — a digital iPod dock of superb quality. Though it offers analog outputs as so many other docking stations, it also has a digital output that extracts a digital signal from the iPod, thereby keeping it in the digital domain without compression when the recording was done loss-less. Having auditioned it with another high-end system and an external DAC, I had a good idea as to what to expect. Well, it seems that Magnum's built-in DAC is top notch as the variety of track I had ripped on the Mac for my wife's iPod sounded wonderfully analog, totally harmonic rich and musically fulfilling. Even downloaded, compressed tracks sounded better. Perhaps this is the future of audio after all. If and when it happens, the MD209 is ready for it.

The best way to characterize the MD 209's sound quality is to point out that it doesn't add or subtract from the music, but rather, provides an utterly organic sound — the kind that makes it difficult to ignore

Synopsis
I had the earlier version MD receiver and reviewed it in 2002. I was quite happy with it giving it top rating. Nevertheless, the MD 209's performance offers much improved musical essence — better harmonic capability, more appropriate rendering of tonal hue and instrumental timbre and less "bite" compared to its earlier solid state version.

The MD 209 receiver's amp/preamp section belongs to audio's high-end category and will compete with many distinguished separates I have run across over the years. There isn't a doubt in my mind that this "stereo only" component is a breakthrough, even the paradigm of modern audio receivers.

Peripheral auditioning components
Pioneer Elite transport
iPod
Ethera Vitae and Gershman M2 loudspeakers
Argentum and BIS Audio cables and interconnects.
MODELS
MANUFACTURER
MD 209
Magnum Dynalab
RATING
CONTACT



Magnum Dynalab Ltd.
8 Strathearn Avenue, Unit 9
Brampton, Ontario
Canada
L6T 4L9

US Office:

2775 Broadway
Buffalo, NY 14227-1043
1-800-551-4130 (Toll Free)

www.magnumdynalab.com

PRICE
$5,800.00 (US)




TECHNOLOGY

It would be simple to say that the receiver holds an amplifier and a FM tuner. However, the component is rather exceptional, as it is a hybrid design whereby the preamplifier section is a superbly engineered tube gain stage that feeds its signal to a solid state power amp. This drives the FM section, which is based on the MD 108T tuner.

The preamplifier section employs customized tubes — the 6922 Reference Cryovalve —, which relates to a cryogenic treatment rooted in the practice or technique of deep-freezing (minus 350 degree F). Cryogenically treated tubes avoid most internal stresses in materials used to assemble them, and require a lengthy, expensive process, which includes slow cooling. This stabilizes the tube components and significantly lowers the noise floor. To enhance its socket contacts, the MD 6922's through-glass pins are cleaned back to base metal and polished — a procedure that results in greatly improved connections, thus improved sound. The final step is to burn in the treated tube, which takes another 100 hours, or so. However, the final product is of extremely high quality and ideally suited for high performance, high-end audio application.

The receiver produces 120 watts into 8 ohms, 250 watts into 4 ohms. Its frequency response is from 2Hz to 100kHz (+/- 0.1dB). It operates in class A up to 50% of gain, then switches to class A/B. Harmonic distortion is quoted at 0.05%; signal to noise ratio is 115dB; input sensitivity is 1.2 volts (full power) input impedance is 10k ohms, output impedance is 2Kohms. The receiver is equipped with two balanced and three single-ended inputs (surround sound can be accommodated), while it sports one preamp output, three digital outputs (two coaxial, one USB).

The most important tuner specs are:
Usable sensitivity (mono) 0.7 u V 9.0 dBf50; dB quieting (mono) 2.0 u V 9.9 dBf50, (stereo) 2.3 u V 20.0; capture ratio is 1.5 dB; image rejection 125.0 dB; alternate channel (narrow) >80.0 dB; adjacent channel (wide) 3.0 dB; adjacent channel (narrow) 30.0 dB; THD (mono) 0.10%, THD (stereo) 0.10%; stereo separation 50.0 dB; AM suppression 70.0 dB; SCA rejection 80.0 dB; IF rejection 80.0 dB @19 KHz & 38 KHz; component rejection 75.0 dB.

Magnum's Director of Audio Design Zdenko Zivkovic has developed the hybrid-acoustic design platform, with a unique circuit path that provides long tube life (anticipated to be greater than seven years under normal use) and high-current output.

The design generates half of its gain from the triode stage and adds the additional gain with solid state devices. Its output stage produces power with 20 Sanken output transistors (10 per channel), that amplify current, rather than voltage. This method is said to alleviate critical stress off the 6922 Cryovalve tubes, thereby eliminating the need for traditional output tubes commonly employed by tube amps. The technology promotes long tube-life when combined with high-current output devices.

The MD-209's power supply employs a shielded 650V torroidal transformer and eight electrolytic capacitors and delivers current to all critical components. 80,000uF of filtration ensure a flat DC supply of power. Wiring is done with Kimber Hyper-Pure cables.

The MD-209 is equipped with an advanced Digital-to-Analog converter, featuring a full-time upconverting and oversampling Burr-Brown design. Three digital inputs (including USB), allows integration with virtually any digital source components (try your iPod with loss-less rips).

WBT binding posts and Cardas RCA connectors are the unit's finishing touches.